The Comic Book Legal Defense Fund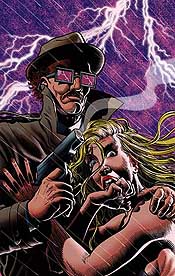 Our anthology Murder By Crowquill is a benefit book for the Comic Book Legal Defense Fund; all profits from the book will be donated to the fund.
The CBLDF is a non-profit organization that provides legal assistance and information pertaining to first amendment and censorship issues for comic-book professionals (including artists, store owners, and publishers.) Contact them at:

Comic Book Legal Defense Fund
P. O. Box 693
Northhampton, MA 01061
(413) 586-6967 or (800)99CBLDF (992-2533)
Fax: (413) 582-9046
cbldf@compuserve.com
http://www.cbldf.org
Tim Truman on the CBLDF
I'll never be able to fully express what the CBLDF did for me in my time of crisis. I won't speak for Joe R. Lansdale or Sam Glanzman, but I have a strong suspicion that they'd agree.

When we were advised by our employers that it would be best for us to seek separate legal counsel, Joe and I ended up paying a lot of money to a high powered NY City lawyer. The lawyer was very good at what he did for us. However, after representing us for only three months or so, the guy's bill socked us so hard that I had to sell almost my entire original art collection, as well as the better pieces from my guitar collection. I'd put a long time putting these together. Since it looked like the case was going to drag on for MONTHS (it ended up continuing for about a year and a half!), I was pretty terrified about the whole thing, not knowing whether or not we could properly defend ourselves in the long run, no matter our commitment to our very well-defined First Amendment rights (remember-- the trial was to have occured in the city that found OJ Simpson not guilty!).
Through the lobbying of people like Andrew Vachhs, the Comics Journal, Dennis Kitchen, and a handful of fellow creators who realized the importance of the case and the dire straits that my compadres and I were in, the CBLDF agreed to take us under its wing and provide legal assistance for us. Through their mediation, our employer finally seemed to realize that we were in no way their enemies, that the legal rights of both the publisher and the creative team were very clear, and that we meant absolutely no offense to the people who were accusing us (quite the contrary!). We were provided full legal protection by the publisher. The company and ourselves were able to unite in strong opposition to our accusers and in unbreakable support of our First Amendment rights.
The corporate legal team who afterwards mounted the fight for us was absolutely amazing. Whereas the opposition was using any exploitive and sensationalistic means necessary to try to gather proof for their case, our legal team stuck to the letter of the law. In the end, they got every point of our accusers' case thrown out of court, and established precedents that other creators can rely upon for as long as there's a United States.
However, without the support and assistance of the CBLDF, the misunderstandings which had kept us from joining forces would never have been taken care of.
Thank god for the CBLDF and for the good people at the publisher's offices who decided to support us.
You don't think you need the CBLDF? Pay a good lawyer out of pocket for a couple of months to defend your right to produce satirical Art. These cases can spring up in the face of any creator at any time. Do you have legal means in place with which to protect and defend yourself and the products of your imagination? Can you pay a lawyer for 2 years, out of pocket, during which time you probably won't be able to fully concentrate on your work because of the interuptions and traumas that the grinding legal process puts you through?
2 years. That's about how long these cases usually take.
I hope you never have to deal with it. I hope you never have to depend on the CBLDF. But you know what? You just might.
It happens.