MURDER BY CROWQUILL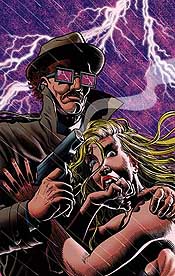 24 great comics creators with one thing on their minds-- 'Who am I gonna kill tonight?!?'

MURDER BY CROWQUILL is the largest comics anthology ever devoted to the mystery genre. This section provides a preview of the book's contents, with sample art, information and links to its contributors; it also provides some background about the book, it's genesis, its history-- and even a 'manifesto' concerning comics and the mystery genre!

Note: Contributor Ben Adams has set up a discussion board about the book at his website-- check out http://www.mediawarpcomics.com.

And we'd like to hear from you about your reactions to the anthology-- email us at joezabel@hotmail.com!


180-page trade paperback, b&w, color covers. $9.95 plus $2.50 p&h: $12.45
(Click on price to order from CCNOW)

NOTE: Murder By Crowquill is also available in a variety of discount packs! See our ordering information page for more details.

---
View Shopping Cart / Checkout
---
If you've never seen an issue of Michael Cohen's MYTHOGRAPHY, you've missed a good comic! It was a fantasy anthology for which a lot of the contributors were non-fantasy cartoonists, and the results were fresh and unpredictable (a page from one of my own stories is at left.)

I liked the idea so much, I decided that I wanted to do a similar thing for the mystery genre. That's what led to Murder By Crowquill.

Did I set out to create the largest anthology of mystery comics ever printed? HECK NO!! I simply invited about fifty of my favorite cartoonists to contribute. I figured I'd get about one in ten to accept; after all, I planned the book to be a Comic Book Legal Defense Fund benefit project, so nobody was gonna get paid. I figured with five solid cartoonists, I could beg a couple more to pitch in, and put out a nice little book like Mythography.

Well, I hadn't counted on the strong support the CBLDF has in the cartooning community (check out Tim Truman's impassioned essay on our CBLDF page!) I got over 20 favorable responses to the initial invitations, and several more artists heard about the project and contacted me! I actually had to turn away a few prominent artists. Even at that, the book would have been a lot thicker if there weren't a handful of contributors who opted out as the deadline approached.

I don't care what the reviewers eventually conclude, I LOVE this book! It does exactly what I set out to do, demonstrating that the mystery genre in comics has a multiplicity of exciting possibilities! Check out our annotated table of contents-- the sheer range of this book is incredible!

As for the quality of the stories, they are very solid! Many of the contributors told me personally what a stimulating experience it was for them, and their enthusiasm comes through on the printed page. In fact, one artist told me his piece for Murder By Crowquill is his most ambitious work ever!

What's it like to edit a sprawling anthology like this? Well, the toughest part is trying to keep track of everything. Who's got their story done? Who needs a reminder? Did I answer this artist's question?

I set out at the beginning to personally telephone all the contributors to touch base with them, which ended up taking a huge amount of time! I never quite got through to all of them, but the many conversations I did have were some of the most rewarding experiences of the project!

I can't tell you what an honor it is to have all of these talented folks take an idea of yours and turn it into a sparkling reality. All the planning and paperwork, all the pasting of page numbers on the artwork, all the agonizing about whether to call the book 'Murder By Crowquill' or 'Deliver Us Some Evil'-- it was all WORTH IT!

--Joe Zabel, June 1999

The book's just come out, so we don't have any reviews yet! Let us know if you see any (or write any, hint, hint!) so we can post them here!

Here's some comments from our readers:
---
Joe-- I just picked up the book today (from a comic shop in Toledo). I have only had a chance to flip through it, but it looks good! So, are you going to make this an annual event? --Tom Peters
---
Wow... I've never seen Joe keel over so fast. I picked mine up today--looks really slick! --Greg McElhatton
---
I picked up Murder By Crowquill today, and have already read through a few of the stories (Landale and Truman's, Jenni Gregory's, and Steve Conley's-- Joe Zabel, I'm saving yours for later... it looked too intense to read through between pretending to work )-- I must say I'm impressed.

The statement by Tim Truman about the CBLDF was riveting, and a good reminder why we need to support such a fine organization.

Congrats!--jbgallag
---
Let me just chime in with the others, you did a great job! The book is very slick and the stories are excellent. Well done, and if retailers do their jobs, it stands an excellent chance of bringing some new blood into the field. --Four Color Fantasies
---
Howdy Joe!

Hope you don't mind me being informal, but I feel so familiar with you after reading all your posts on Comicon. I read my copy of Murder By Crowquill yesterday and just wanted to let you know that it was terrific! I particularly enjoyed Alex Robinson's and Jesse Reklaw's contributions, but the entire book is stellar! Er, with one exception . . . I really didn't care for Joe Chiappetta's piece. It really didn't fit thematically with the rest of the book to me. Almost seemed like it was printed in the wrong book by accident. Anyhoo, the book still rocks and I'm telling everyone I know to get it. --John Green
---
Joe--MURDER BY CROWQUILL is a great anthology! Wow. What an undertaking. You really pulled off a swell coup! I'd say that there are at least 2/3rds of solid material in this book, and in 192 pages, that ain't bad. More bang for the buck.

I'm glad that *finally* someone had the wherewithal and courage to publish Tony Consiglio in a longer form (besides his SPX teasers). I can't wait for someone to collect a "best of" DOUBLE CROSS.

It's cool to read stories by folks who are new to the mystery genre; kids like Alex Robinson, Jesse Reklaw, Scott Gilbert, and Josh Neufeld. Mack White's EC Comix inspired, retro stories are always provactive, bone-chilling tales (with a casual wink and chuckle). Joe Chiappetta never fails to turn out something thought provoking and surreal. And as usual, you flex your strengths in "A farewell to troubles", which disects a simple narrative, and brings a wealth of mystery and horror to the details that are often overlooked.

Thanks for a great read, and if you decide to make this an annual event, please keep me in mind for the second volume, so that I can take a stab at my own little world of suspense!--Dino
---
Joe, Hope you were happy with this collection. I was.

I found all the contributors to be interesting, to say the least & at least 3 of them are (for me) standouts. I bet that everyone else will have their own favourites (mine were the pieces by Lash Truman & Conley) but almost all the others could have been on that list too.

Hope you got yourself a couple of new readers too- your strip wasn't too shabby either! It had one of those nice atmospheres that mean that you don't look for holes in the plot or cliches but want it to succeed. Very nice (& your next work is...?)

Only 1 typo too (on page 4 where the M from McGregor is missed off once) That 's a much better average than Marvel's Previews solicitation!BTW, it was nice to see Big Don in an indie comic- his stuff fits right in with the type of work displayed here- too bad he couldn't contribute a story (with Gene Colan pencilling). I'm dreaming again.

No, the mystery genre is nowhere near moribund if this is anything to go by. But then you could do the same with a collection in any genre if the creators are good enough. This lot certainly were- talk about celebrate diversity! It'd be impossible for any comics fan to not find at least a couple of strips to love (just as it would be almost impossible for anybody to love all the strips>) So, when's the Son of Murder out? --Paul